CLUB
CLEAN
Golf
Club & Golf Ball Cleaner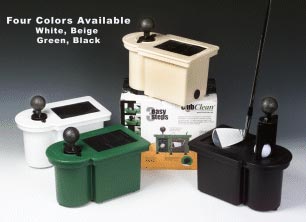 CLUB
CLEAN (/files/includes/images/products-accessories.jpgGC) $49.00

It's
the perfect golf accessory. Club Clean is the only patented
single chamber club and ball cleaner in America. Club clean
mounts on a golf cart, can be used at home, and can suction
cup to almost any surface. Americas /files/includes/images/products-accessories.jpg1 golf club and golf ball
cleaner has patented fluid communication which makes for easy
draining.
Club Clean provides better ball flight, cleaner grooves on your
club, and better backspin. Durable bristles make Club Clean
the best golf club cleaner and golf ball cleaner in America.

Maintenance
Free

Tough

Made of Durable co-polypropylene

No mechanical parts to replace
No
cracking, rusting or fading

Better
Ball Flight
Cleaner
Grooves
Better
Backspin
Patented
Single Chamber for easy cleanup
Mounts
easily for at home or on the course
Dual
drainage chambers allows use of two separate cleaning solutions
and reduces dirt build up!