Introducing
the world's first extreme
"spring action" fairway woods…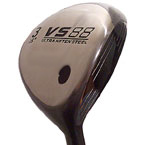 You're
235 yards from the green. There's a big opening on the front.
You pull
out your extreme spring action 3-wood and hit it. The ball
takes off on a low, burning trajectory… lands 30 yards short
of the green… takes two HUGE bounces …and easily rolls
onto the green.
Welcome
to the world's first spring action fairway woods. Call it
"ultimate power from the ground."
Or this:
It's
a 200-yard par three, straight up hill. A huge, deep bunker
guards the entire front. You can smell double bogie.
Not now.
You reach into your bag and pull out your spring action 5-wood.
You make your pass. The ball catapults into the air… arcs
gently over the front bunker… then settles softly on the
green. Instead of five, you're looking at two, three at worst.
iGolf
Technologies is proud to introduce the world's first spring
action fairway woods. The ball contacts the face. The face
s-t-r-e-t-c-h-e-s like a trampoline. Then… it rebounds and
springs the ball into the air at a much higher rate of speed
than any conventional fairway wood.
Now,
almost anything is reachable.

Spine Aligned Shaft for more on-center hits
When it comes to distance, there are
two issues:
Speed.
How fast can you take it off the face?
Center
hit. How close to the sweet spot can you hit it?
The VS88
spring action head takes care of the speed.
iGolf's
Shaft Propulsion System takes care of the center hit. Instead
of bowing up and down like most graphite shafts, the TiStriper
releases "in line." It releases towards the target.
You get less shaft wobble and a more consistent release. That
means MORE CENTER HITS.
Wait
'til you experience the awesome power and speed of spring
action fairway woods.
Absolute
Money Back Guarantee
If you
are not happy with your spring action equipment – for any
reason or no reason at all – simply pack it up and send it
back. We'll refund your money promptly and courteously, net
of shipping and handling.
Make
every hole on your course reachable in regulation.
Hit
some par 5′s in two.
Be
longer from the ground than you ever imagined.
Get
back in the hunt and make golf an exciting sport again.
Simply
call 1-800-261-5446. My staff will take care of you from there.

Special Member Pricing:
VS88
extreme spring action 3-wood $159
VS88
extreme spring action 5-wood $159
VS88
extreme spring action 7-wood $159